The Ultimate Guide to Lingerie Accessories: Styling Stockings, Garters and More
Understanding lingerie goes beyond the realm of bras and panties. To truly embrace the world of lingerie accessories, you must explore the intricate details, luxurious materials, and unique styles that include everything from sexy stockings to elegant garters, daring harnesses to playful nipple covers. In this detailed guide, we'll journey through the lesser-known, but incredibly significant, realm of lingerie accessories. We'll discuss what they are, how to wear them, and how to style them to create an unforgettable, seductive look.
The Elegant Appeal of Stockings:
Often referred to as hosiery, stockings are close-fitting, elastic lingerie accessories that beautifully wrap the leg from the foot up to the knee or possibly part or all of the thigh. With a range of options from sheer to semi-opaque or opaque stockings, these lingerie staples come in various colors and designs. They are typically paired with garter belts to keep them secure, but some self-supporting stockings feature a silicone grip on the inner side for standalone wear.
Styling Tip: For a timeless and alluring look, team up sheer black stockings with a black lace garter belt and a matching lingerie set. Add a fun twist with patterned or colored stockings matched with a contrasting garter belt.
Stylish Garters and Garter Belts:
Garter belts, an essential addition to your sexy lingerie collection, are designed to keep stockings in place. They generally comprise delicate lace or satin and wrap around your waist, featuring suspender straps that attach to the tops of stockings. Garters, in contrast, are bands worn around the leg, usually just above the knee, to support stockings.
Styling Tip: To infuse sophistication and allure to any lingerie ensemble, pair garter belts or garters with high-waisted panties and a bralette for a retro, pin-up look. For a contemporary vibe, wear a garter belt with a thong and a balconette bra.
Edgy Lingerie Harnesses:
Harnesses bring an edgy, provocative element to the lingerie accessories arena. These strappy designs can be worn around the waist, torso, or thighs to add a dramatic effect to your look. They can be paired with lingerie or incorporated into everyday wear for a bold fashion statement.
Styling Tip: Pair a waist harness with a high-waisted panty and longline bra for a fashion-forward look that's sure to turn heads. Alternatively, layer a body harness over a simple outfit for an instant dose of edginess.
Playful Nipple Covers:
Also known as pasties, nipple covers are a bold addition to the world of lingerie. These small coverings adhere directly to the skin to provide coverage and come in a plethora of shapes, colors, and styles - from basic silicone covers to more embellished designs featuring sequins, tassels, or even lights.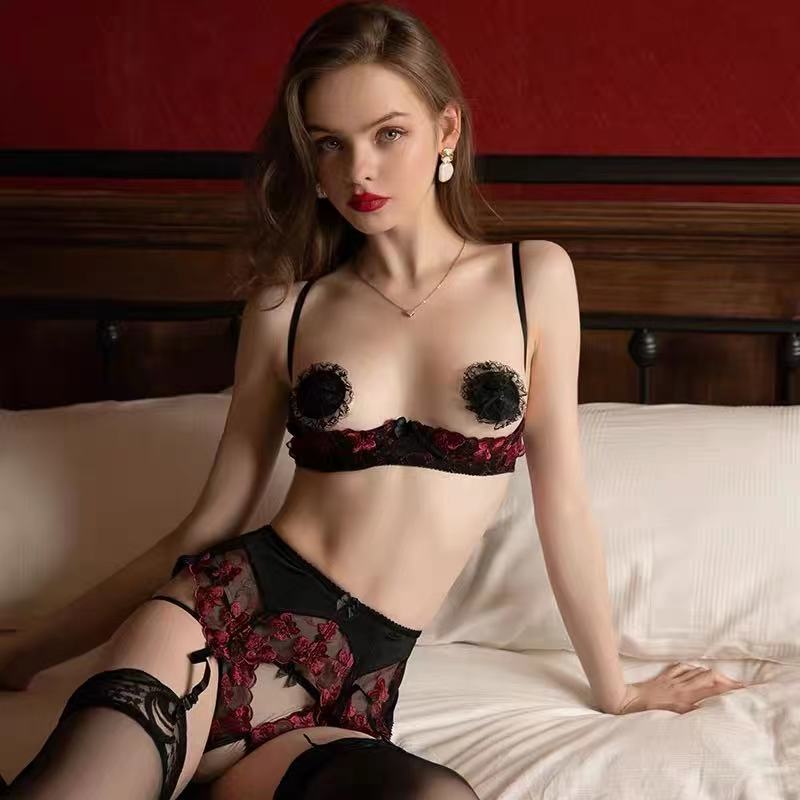 Styling Tip: While traditionally worn under sheer tops or backless dresses, nipple covers can also be styled with open-cup bras or bralettes for a daring, playful look.
Sophisticated Robes and Kimonos:
Lingerie robes and kimonos add a touch of modesty and sophistication to your lingerie ensemble. These loose, open-front garments, typically featuring wide, flowing sleeves and a waist tie belt, can be made of sheer lace, satin, or luxurious silk and often feature beautiful patterns or details like floral embroidery or fringe.
Styling Tip: Pair a satin or silk robe over a matching lingerie set for a glamorous look, or team a sheer lace kimono with a simple bralette and panties for a romantic touch.
Diving into the diverse world of lingerie accessories will add a fresh dimension to your intimate wardrobe. These pieces not only elevate your lingerie ensembles but also give you an opportunity to express your personal style and confidence. Explore the exciting world of lingerie accessories to express your individuality, embrace your body, and feel beautiful from the inside out.
---