Lingerie for Every Occasion: Choosing the Perfect Piece
Choosing the right lingerie for every occasion is essential. This guide will help you select the ideal lingerie pieces, from seductive date night sets to comfortable casual day items. We'll also touch on choosing lingerie for professional settings and special occasions. Understanding what lingerie to wear and when can boost your confidence and make your outfits shine.
Perfect Lingerie for Date Nights
Date nights are all about confidence and expressing your sensual side. Opt for a sexy lingerie set like a classic lace bra and panty. The semi-transparent fabric with intricate lace patterns adds an element of mystery and romance. These date night lingerie sets can make you feel your best.
Adventure lovers might consider a corset or bustier for their date night. These pieces accentuate your waist and lift your bust, creating an irresistible hourglass figure. Combine with matching panties and thigh-high stockings for a sultry look.
A silky slip or chemise, paired with a delicate lace robe, can also make for enticing sexy lingerie options.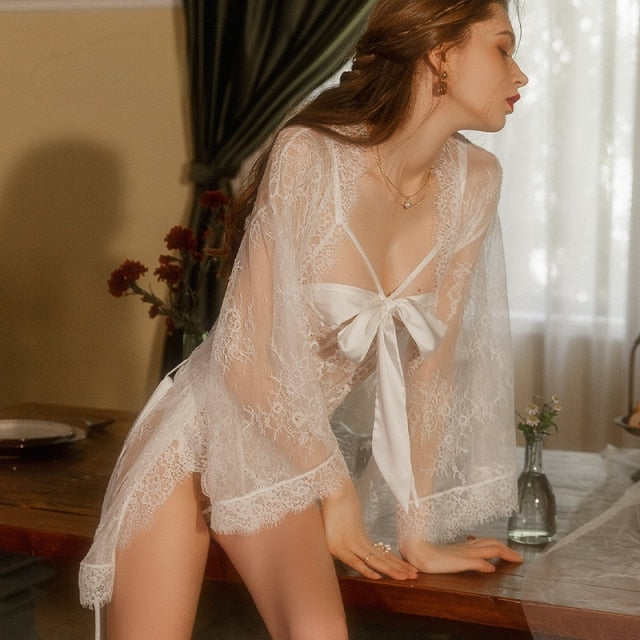 Comfortable Lingerie for Casual Days
When it comes to casual days, opt for comfortable lingerie. A cotton or bamboo bralette with matching panties is ideal for a day spent lounging at home or running errands. They're breathable, soft, and offer the right amount of support without feeling restrictive.
Boyshorts, offering more coverage than regular panties, are another comfortable option. They are perfect under tight-fitting jeans or dresses, thanks to the lack of visible panty lines. For active days, sports bras provide the necessary support, making them an essential part of any casual lingerie collection.
Professional Lingerie for Work Settings
Choosing the right lingerie for work is crucial. Aim for pieces that enhance your outfit without drawing attention. A T-shirt bra is a fantastic choice for everyday wear in a professional setting, as its seamless cups won't show under tight-fitting tops.
Balconette bras, with their wide-set straps and horizontal cups, are perfect under square necklines or dresses. For a smooth silhouette under fitted dresses or skirts, opt for high-waisted briefs or shaping shorts. These professional lingerie pieces give a polished appearance that's perfect for the workplace.
Luxurious Lingerie for Special Occasions
Special occasions like weddings, anniversaries, or galas are the time to bring out your most luxurious lingerie pieces. Silk teddies, intricate lace bodysuits, or dramatic longline bras with matching garter belts are excellent special occasion lingerie choices.
When choosing the perfect lingerie for any occasion, the key factor is how it makes you feel. The right lingerie should empower you and make you feel comfortable and confident. Lingerie is more than just undergarments; it's a reflection of your personality, mood, and occasion. Whether it's a casual day, date night, professional meeting, or special occasion, there's always a perfect piece of lingerie waiting for you.
Remember, confidence is the sexiest lingerie a woman can wear. Use this guide to find the perfect lingerie for every occasion and let your inner confidence shine.
---